Jamaican art will prove to be an investment that will stand the test of time, increase in value and remain strong for years to come. The development of the industry continues with the focus of groups such as the National gallery of Jamaica, The Jamaica Guild of Artists, The Edna Manley School of Art and The Jamaica Cultural Development Commission. The industry is further strengthened by the courageous and often difficult determination of many professional artists to export their art and create for themselves and by extension Jamaica an international market share.
Jamaica's first inhabitants on record Taino Indians carved 'zemis', images of their gods for ritual purposes, followed by European artists Agostino Brunias, James Hakewill and J.B. Kidd rendering their experience of the evolving culture of a slave colony and the beauty of the Jamaican landscapes.  Isaac Mendes Belisario captures for us post emancipation Jamaica and the ever lingering colonial society. Fast forwarding to "The Modern Movement" we find a more cohesive group of artists producing works that reflect their life's experiences of Jamaican culture, landscapes, personalities and social commentary. This group includes but is not limited to masters Albert Huie, Barrington Watson, Carl Abrahams, Alexander Cooper and Kapo an intuitive painter. While the diversity of art forms produced by artists is reflective of the racial, cultural and social diversity of Jamaica, most artists speak to the Jamaican life experience.
Original art is an important part of the image of any company and has also been recognized to be beneficial aspect of a motivating working environment. Art collections are also acknowledged as a sound financial investment. Collectors such as Charles Saatchi recognized the value in contemporary art investment and has dedicated himself not to just collecting but promoting contemporary artists (Charles Saatchi Gallery). To quote Neil Craze (Moneyextra.com) "This is not just down to the fact that it is pleasing on the eye – or maybe not in some cases – but historically it yields good returns….."  The benefit of investing in Jamaican art is not only sound financial investment but would enhance the viability of the creative sector of the Jamaican economy thereby facilitating a potential growth in its own customer base. Collections that are documented and regularly publicized will create an avalanche of new collectors and further enhance the viability of the sector.
Collectors begin with a policy to collect. There are three potential options and two considerations.
Considerations:
Budgetary Constraints
Available Display Space
Potential Options evaluates the constraints in conjunction with the following:
Collecting high end paintings, ceramics or sculptures from Jamaican masters at the high end of their career. This option is an expensive venture but one that must be considered. Jamaican masters are Barrington Watson, Alexander Cooper, Viv Logan, Dorothy Henriques-Wells, Gene Pearson, Howard Moo-Young, Carol Creighton, K. Patrick Byles, Albert Huie, and Christopher Gonzales to name a few. No collection would be well appointed without at least one piece from either of these artists. Acquisitions from Jamaican Masters validate the collection and justify the expenditures. You will notice that the above mentioned masters are living, a simple fact but one which will give your collection a financial asset that can only grow. Work by most of these artists is affordable, they have a proven track record for growth and have demonstrated a significant commitment to their art career, and in other words they have proven their worth.
Collecting medium priced art from mid-career artist provides the maximum benefit with low risk. These artists have been in the profession for at least ten years and have been persistent in professional growth and are on their way to being masters. This category of artist is most note worthy in that they would have established a brand for themselves and would be found in many corporate and personal collections. Here we find artists such as Lois Lake-Sherwood, Edward Channer, Myrth Hal-Butler, Betty Glanville, Ewan McAnuff, Patsy Mair, Raymond and Basil Watson, Sharon Fox-Mould, Jack Allen, Carol Watson, Lennox Coke, Allison and David Sinclair and Devon Harvey to name a few. These artists are award winning, widely published and consistently shown both nationally and internationally.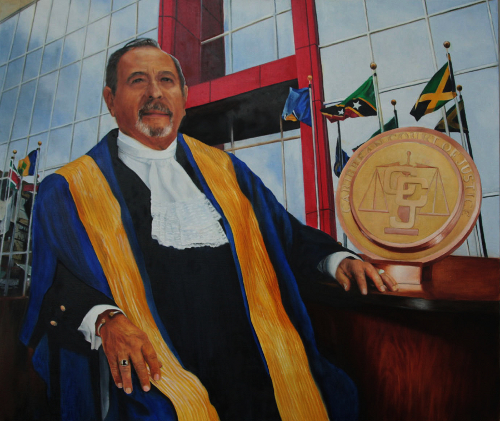 Collectors are often in need of portraiture. Jamaica has few accomplished portrait artists one such is
Viv Logan
. Viv currently paints portraits of local dignitaries, business leaders and Caribbean officials. Although known mostly for her portrait work, Viv also has created another persona in her romantic realism style and has penetrated international markets in both areas. Showing in the Caribbean and also in London Viv Logan's work is widely collected by visitors from Canada, England Europe Jamaica and other Caribbean islands as well as corporate and governmental groups.
Betty Glanville trained in Glasgow, Scotland and working in Jamaica is collected by Jamaicans worldwide. Betty's studio is located in Princeville Plaza in Kingston where she shares her show space with other Jamaican artists. Betty paints mostly floras, she is known for her rich use of colour and used water colour and oils. Her paintings can be seen in galleries such as the Ritz Carlton, Montego Bay and Devon House Wassi Art Gallery.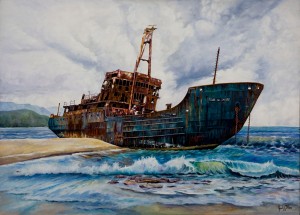 Jack Allen paints Jamaican Culture. Simply put he knows Jamaica from the inside. Jacks fascination with the culture is instigated by his vast experience as a surveyor for the Lands Department whose main focus was to survey the islands most remote and in accessible areas. His detailed renditions capture for us places that we have visited as it actually is and also captures places that are part of our culture that may not exist in the future because we have not bothered to maintain them. He specializes in old houses, bridges and relics.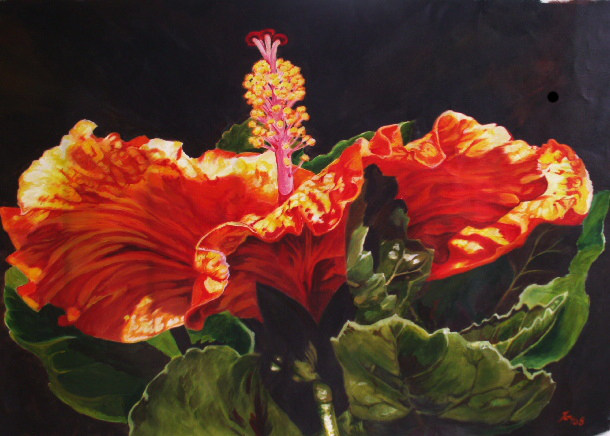 Sharon Fox-Mould paints tropical flora, allowing the viewer a large scale view of the most beautiful and colourful folds of a bloom. Sharon works in both Maryland USA and Kingston Jamaica. Her paintings adorn walls in many popular collections, notably the Bank of Jamaica and The Pehl Collection in Eldersberg, Maryland. The second place winner of the Utrecht Art Company 30th Anniversary Competition Sharon has exhibited in London, The Caribbean and US Galleries in Los Angeles, New York and Maryland.
Collecting art from the emerging artist is risky but also very lucrative. One must imagine what a Barrington Watson painting from his early years would be worth today compared to its purchase price forty years ago. This category has many young painters too numerous to mention. There are some who stand out from the crowd Melhanie Spence, Jeffrey Perry and Soloman Sinclair. Applying the measure of dedication and motivation to stay in the career, together with professional attitude and consistency, is a necessary step for this category. An acquisition from this group is an investment well worth the risk.
There are two other options that you may want to consider. Firstly, there is a product called embellished Giclee this product is a less expensive alternative to an original piece of art but which will have growth because there is original art work and a signature from the artist. This is a relatively new product will become more common place as the value of original work continues to climb. Secondly, there are prints on canvas and paper. It is difficult to look at these options as an investment since one never knows whether the original will grow in value or the artist will continue career development (contributes to value). They will enhance your space and satisfy both your customer and employee desire for aesthetics. There are few Jamaican artists who offer this product line; they are Howard Moo-Young, Sharon Fox-Mould, Betty Glanville and Viv Logan. Purchasing directly from the artists ensures you have an authentic creation. Most artists should issue a signed certificate of authenticity with this product.
Finally in rendering an educated opinion and attempting to educate in a short space, I would be remiss if I did not state that personal likes are the determining factor. The collector should be assisted and advised in his or her choices by an experienced professional and make sure that you use your technological advantage by 'googling' the artists. Believe it or not these days if an artist is serious about their career, they will be publishing, have a website or be part of other art websites and doing international exhibitions. This professional must be honest and objectives, a small note on making your choice here, rely on your own instincts after you have taken advice. Many professionals have a vested interest in processing their artists, be independent and rely on your own instincts. A collector must be aware that galleries and dealers represent their own interest and a relationship with the artist is mandatory.
Articles of note:
http://www.artbusiness.com/giclee2000.html
www.artbusinessnews.com/ME2/Audiences/dirmod.asp?sid=&nm=&type=Publishing&mod=Publications%3A%3AArticle&mid=8F3A7027421841978F18BE895F87F791&AudID=BC3B7312E2FF4766B68193255AA22067&tier=4&id=2DC593EF3DFB47ACA163AA30BF35C537
money.uk.msn.com/investing/articles/morecommentary/article.aspx?cp-documentid=4762660